New! Presma 15" Free Float M-LOK Handguard with Partial Top Rail, .223/5.56. Made in the USA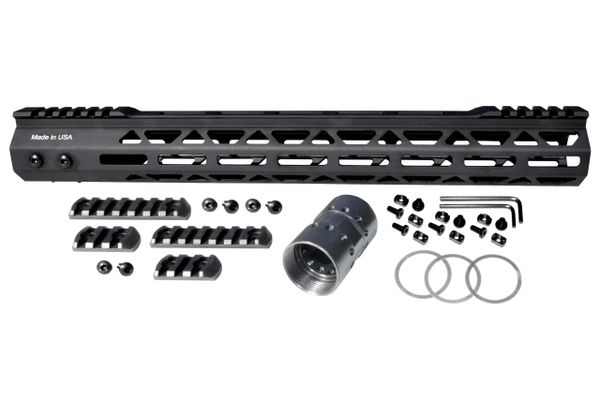 New! Presma 15" Free Float M-LOK Handguard with Partial Top Rail, .223/5.56. Made in the USA
New!  Presma 15 inch Free Float M-LOK Handguard with Partial Top Rail, .223/5.56.  SKU:  UMMARA15
Made in the USA by Presma Inc.

Super Light Weight 223/5.56, 15" length free float rail mount with partial Picatinny Top rail and M-LOK slot system.  Steel barrel nut included.  CNC machined from Quality aluminum and black anodized. Super light weight, only 13.8 oz with barrel nut. 

A true free float rail, which connects only at the Steel barrel nut. Since the rail doesn't touch the barrel, shooting accuracy is improved in comparison with two piece rails, when used with grips / bipods that can flex the Steel barrel.
Includes steel barrel nut, timing shims, 4 picatinny rail sections for M-LOK slots, hardware and hex wrenches.

Specs:  15" Long, 1.48" wide, 1.97" tall.
Weighs 13.8oz.
I.D. - 1.32".

Note: Requires Low Profile Gas Block and removal of A2 front sight post (if fitted)

Reviews