AR-15 Fixed Magazine Conversion Kit, to make California Compliant. (.223/5.56)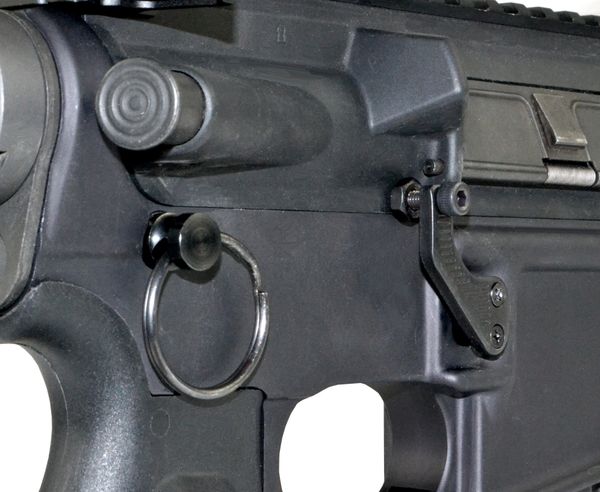 AR-15 Fixed Magazine Conversion Kit, to make California Compliant. (.223/5.56)
AR-15 Fixed Magazine Conversion Kit, to make California Compliant. (.223/5.56).  SKU:  FMBK01

Easily converts your non-featureless AR-15 into a Legal Fixed Magazine Firearm as per California Compliant (Also New York, Connecticut, Maryland, New Jersey and any other states laws coming into effect with regards to the Fixed Magazine Issue). 

Replaces the standard magazine release button with a fixed/locked button that does not allow the Magazine to release unless the upper and lower receivers are opened/separated first.  Not permanent, you can easily go back to original button.  Kit also includes a quick release pull pin for easier upper and lower separation. See below for more information.

No drilling required & straight-forward install and operation.
After installation, magazine can't be released without the upper and lower receivers separating. 
Before July 1 2018, if you don't have a fixed magazine, you must register your firearm as an assault weapon and in some cases get a serial number from the DOJ, OR go the 'featureless' route ( no pistol grip, collapsible stock or flash hider).
We're not lawyers and this is a serious business so please do your own research.

"Assembly Bill 1135 and Senate Bill 880 require that any person who, from January 1, 2001, to December 31, 2016, inclusive, lawfully possessed an assault weapon that does not have a fixed magazine, as defined in Penal Code section 30515, including those weapons with an ammunition feeding device that can be readily removed from the firearm with the use of a tool (commonly referred to as a bullet-button) must register the firearm before January 1, 2018. However, Assembly Bill 103 has since extended the registration period from January 1, 2018 to July 1, 2018."  https://oag.ca.gov/firearms/bullet-button-assault-weapon   (Retreived: 05/25/18)

Reviews