16.5" Length M-LOK Free Float Handguard with Partial Top Rail for 223/5.56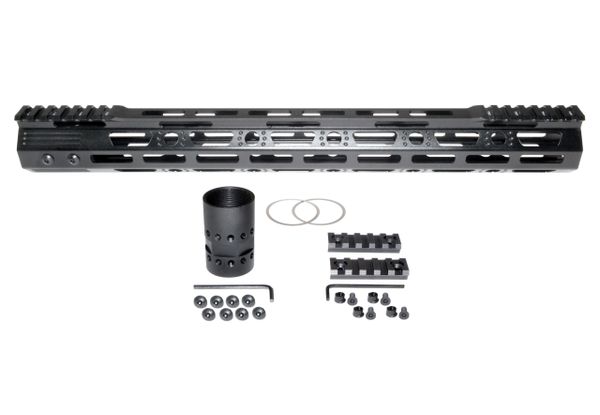 16.5" Length M-LOK Free Float Handguard with Partial Top Rail for 223/5.56
16.5" Length M-LOK Free Float Handguard with Partial Top Rail for 223/5.56.  SKU:  MMARZ165
16.5" Length CNC machined Aluminum Handguard with Picatinny Partial Top Rail and M-LOK slots.  Black anodized.  Comes with aluminum barrel nut, 2 timing shims, hex wrenches with hardware and rail segments (shown in photo).  Barrel nut uses a regular 30mm crows foot type wrench, not included.  Weighs only 12oz with barrel nut.
Measures:  16.5" Long, 2" High, 1.625" wide
Weighs: 12oz with barrel nut
Handguard ID:  Handguard has ridges inside for reinforcement.  ID ridge to ridge 1.373".  Full ID 1.46".
Barrel Nut:  ID 1.02", OD 1.373"
Reviews