16" Length M-LOK Free Float Handguard with 45 Degree Angled Nose and Full Top Rail for 223/5.56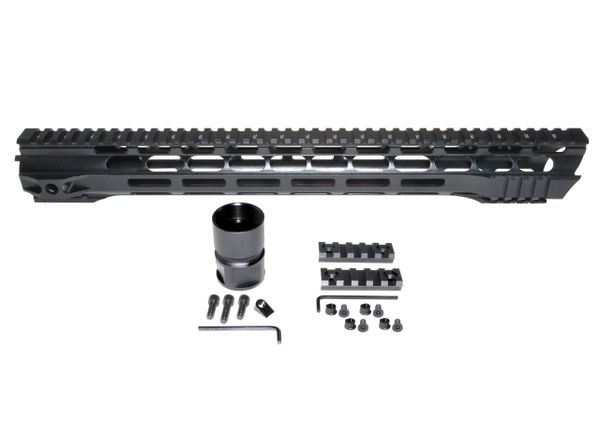 16" Length M-LOK Free Float Handguard with 45 Degree Angled Nose and Full Top Rail for 223/5.56
16" Length M-LOK Free Float Handguard with 45 Degree Angled Nose and Full Top Rail for 223/5.56.  SKU:  MMARX165
16" Length at center.  CNC machined Aluminum Handguard with Picatinny Full Top Rail, 45 Degree Angle Cut Nose, M-LOK slots, front end mini picatinny quad rails and QR sling attachment points.  Comes with anti rotation tabs and black anodized.  Comes with aluminum barrel nut, hex wrenches with hardware and rail segments (shown in photo).  Barrel nut uses a regular 30mm crows foot type wrench, not included.  Weighs only 14.6oz with barrel nut.
Measures:  16" Long at Center (top rail measure  16.375" and bottom of handguard measures 15.5" long), 2" High, 1.55" wide
Weighs: 14.6oz with barrel nut
Handguard ID:  1.36".
Barrel Nut:  ID 1.02", OD 1.36"
Reviews