12" Rifle Length Free Float Handguard with Full Quad Rail for 223/5.56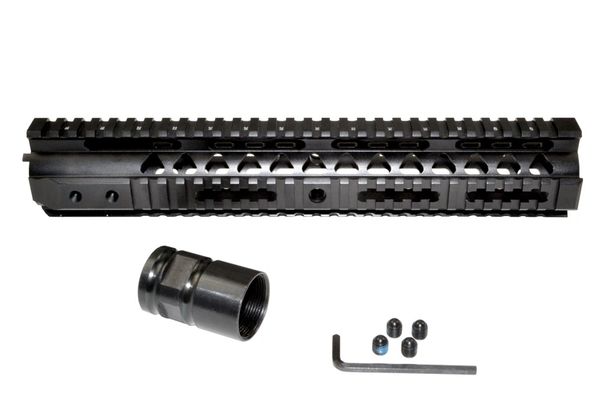 12" Rifle Length Free Float Handguard with Full Quad Rail for 223/5.56
12" Rifle Length Free Float Hand Guard with Full Quad Rail for 223/5.56 and Variants.   SKU:  MFFLF-KH

With Free float handguards, your shooting accuracy improves because the handguard rail doesn't touch the barrel.  They attach only to the upper receiver via a replacement steel barrel nut, therefore limiting flex on the barrel during firing.  This flex becomes even more noticeable when used with fore grips and/or bipods, or as the barrel become hot from multiple shots.

Full length Picatinny Quad rails.   Weighs approx 15.5 OZ.  ID is 1.315" side to side.

CNC machined from quality aluminum and black anodized.  Steel barrel nut and screws included.

Note: Requires Low Profile Gas Block and removal of A2 front sight post (if fitted)
Compatible with:
Low Profile Micro Gas Block

Reviews